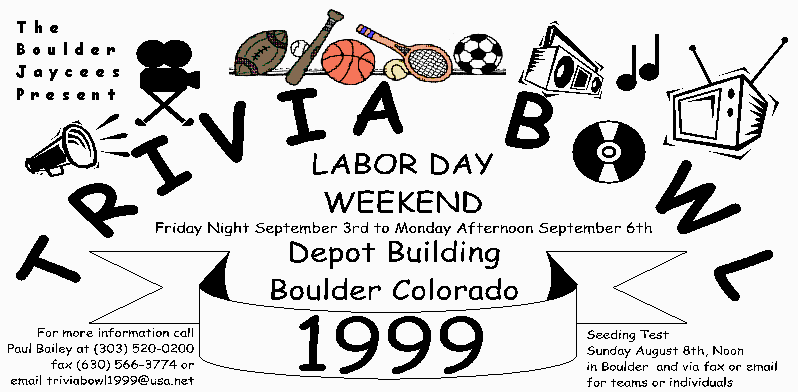 TRIVIA BOWL 1999
The Boulder Jaycees Present Trivia Bowl 1999, a game-show format competition and exhibition for all persons that enjoy
entertaining and curious facts about popular culture.
LINKS: COMPETITION SCHEDULE AND INFORMATION
SAMPLE QUESTIONS
NEWS ARTICLES
ENTRY FORM
RULES
WHO: The Boulder Jaycees are sponsoring Trivia Bowl 1999, a competition and entertainment event modeled after and involving associates of the CU Trivia Bowl (which is currently on hiatus after running 1968-1993). Teams may register by August 1st, 1999, and will qualify for competition on Labor Day Weekend based upon completion of a one hour seeding test to be offered on Sunday, August 8th 1999, at noon MST in Boulder Colorado and other sites across the United States. Individuals may also register and will be matched to a team after the seeding test.
WHAT: A round robin tournament in a format similar to the GE College Bowl, in which of two of the fifteen teams in the field participate with up to four players each attempting first to answer a "tossup" question, where any individual can activate a lock-out buzzer system to answer the question being read. The tossup question typically requires a one-word or short answer response. When a question is correctly answered, a multi-part "bonus" is offered to the team from which the person provided the correct response to the tossup question. The topic areas for questions are in the realm of popular culture regarding film, television, sports, music, and topics such as literature, theater, dance, and other entertainment areas grouped under "miscellaneous". The questions primarily are derived from the 2nd half of this century. The amount of questions will be generally balanced between the categories. Teams are guaranteed to play at least four games in competition.
WHERE: Competition will be at the Historic Boulder Jaycees Depot
2275 30th Street, Crossroads Commons Shopping Center (near Mann Theatre and Barnes & Noble Bookstore).
MAILING ADDRESS c/o Paul Bailey PO Box 3037, High Mar Station, Boulder, Colorado 80307-3037
Phone (303) 520-0200 FAX (630) 566-3774 email triviabowl1999@usa.net
Seeding test site will be announced to registered teams, or they may participate via fax or email.
WHY: The glory of competition through appreciation of popular culture (film, television, sports, music, and miscellany) and the desire to exhibit prowess in knowledge of the same.
WHEN: NOON Sunday, August 8th SEEDING TEST in Boulder, Colorado (site to be announced) and via fax or email
Teams qualify for competition based upon scoring from the seeding test. Duration of test is one hour.
Labor Day Weekend 1999
Friday September 3rd 6pm-midnight………Note: Teams will have a Group Round Robin either
Saturday September 4th 10am-3pm Friday Night, Saturday Mid Day or Sunday Mid Day
Leaving time for those who wish to attend
the CU vs CSU Mile High Classic kickoff football game at 5pm)

AND time for "pickup" games for those who don't attend the football game
Sunday September 5th 9am-11pm…Sunday Round Robin + Tournament for Round Robin Winners
Registration forms may be found on the internet at http://members.tripod.com/~triviabowl1999, or may be mailed or faxed by contacting Paul Bailey at (303) 520 0200. The survey will help to set the final rules of competition to be published 15 July 1999. Registration fees for teams are $60 postmarked before August 1st.

Individuals can register for $20 to be placed on a team based upon their demonstrated expertise at the seeding test.

FOR MORE INFORMATION ABOUT TRIVIA BOWL 1999

Contact Paul Bailey (303)-520-0200, fax (630) 566-3774, email triviabowl1999@usa.net,

or visit our website at http:/members.tripod.com/~triviabowl1999

FOR MORE INFORMATION ABOUT THE BOULDER JAYCEES

CALL 303 443 1030, fax (630) 566-3774, email boulderjaycees@hotmail.com,

or visit our website at http://bcn.boulder.co.us/community/jaycee/

SEEDING TEST

The seeding test will be administered to individuals at noon on Sunday, August 8th, 1999 in Boulder, Colorado at the University of Colorado Memorial Center Room 235. The test will consist of 100 questions divided between the five sections of Music, Sports, Television, Film, and a group of Miscellaneous popular culture topics. The duration of the test will be one hour. The test will also be available for persons outside the area via electronic mail or facsimile. Reference materials of any variety are prohibited during the test or any subsequent portion of the competition. The test will be taken by individuals, and the individual scores will be tabulated for a team total. Persons taking the test as individuals seeking a team will be ranked by category to be considered for draft by teams needing additional players, or allowed to combine into a team by cooperation with other individuals that have taken the test and are not yet on a team. The test will allow teams to be ranked for their draft of positions in the opening round groups, with the highest ranked team having the first selection of group and team number, progressing in order through the ranked teams. A team may pass on their choice once and be considered again after all the top 15 ranked teams are offered seeding. If a team cannot make a choice upon second offer, they will be assigned a position. If the team cannot accept an assigned position, the seed will be offered to the next available team outside the top 15 qualifiers.



All games will be played at the Historic Boulder Jaycees Train Depot, 2275 30th Street, Boulder, Colorado 80301, situated in the Crossroads Commons Shopping Center (North side of Pearl Street between 28th and 30th Streets)

Opening round games are comprised of two ten-minute halves, with a 5 minute halftime break. The clock stops during the playback of audio bonus questions, and there is a scheduled half hour break between blocks of 5 games. The seeding test will determine the draft order for teams to pick their group (A, B or C) and team number (1,2,3,4, or 5). This will allow teams to set a schedule that works best with their group. If a team is coming from out of town, they may not wish to select a Friday night group playoff. If a team can only participate one day, then they can select the group playoff on Sunday, which leads into the final rounds. Every team will play 4 games in the opening round.
GROUP A FRIDAY 3 SEPTEMBER 1999 TEAMS A1,A2,A3,A4,A5
1830 A1 vs A2
1900 A3 vs A4
1930 A1 vs A5
2000 A2 vs A4
2030 A3 vs A5
BREAK
2130 A1 vs A4
2200 A2 vs A5
2230 A1 vs A3
2300 A4 vs A5
2330 A2 vs A3
GROUP B SATURDAY 4 SEPTEMBER 1999 TEAMS B1,B2,B3,B4,B5
0900 B1 vs B2
0930 B3 vs B4
1000 B1 vs B5
1030 B2 vs B4
1100 B3 vs B5
BREAK
1200 B1 vs B4
1230 B2 vs B5
1300 B1 vs B3
1330 B4 vs B5
1400 B2 vs B3
GROUP C SUNDAY 5 SEPTEMBER TEAMS C1,C2,C3,C4,C5
0900 C1 vs C2
0930 C3 vs C4
1000 C1 vs C5
1030 C2 vs C4
1100 C3 vs C5
BREAK
1200 C1 vs C4
1230 C2 vs C5
1300 C1 vs C3
1330 C4 vs C5
1400 C2 vs C3

Note: the Saturday schedule is set to allow for people to attend the CU vs CSU Mile High Classic football game at 5pm on September 4th. The Depot facility will also be available for persons wishing to participate in other trivia matches outside of the tournament scope.



PLAYOFFS
The top two teams of each group, plus the best two other at-large teams from any group will be selected for a total of 8 teams. If for some reason a team cannot return for the playoffs, the next highest seeded team will be offered the playoff spot.
The tiebreakers for ranking will be games won, then head to head record, then record against common opponents, then total points, then total tossups answered, then a coin flip.
The winners of each group will be the number 1, 2, and 3 seeds based on record, followed by all the second place teams at seeds 4, 5, and 6 based on record, then the final two at large teams for seeds 7 and 8.
Playoff games are comprised of two fifteen-minute halves, with a 5 minute halftime break. The clock stops during the playback of audio bonus questions. The playoffs will be a single elimination tournament
Sunday SEPTEMBER 5th
Quarter Final Games
A. 1500 #1 vs #8
B. 1545 #2 vs #7
C. 1630 #3 vs #6
D. 1715 #4 vs #5
Break
Semi Final Games
E. 1900 Winner A vs Winner D
F. 1945 Winner B vs Winner C
2030 Introductions and Awards, plus All-Star Game for players not in final as voted by teams and audience
FINAL GAME
2130 Winner E vs Winner F